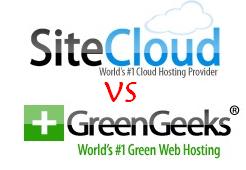 Sitecloud and Greengeeks are managed by the same owner and both brands are by far the best in the industry for what they're featured. Here wer're going to compare the two hosting services and find out what has changed in the last few months.
Greengeeks means 300% super green!

When we talk about green web hosting, greengeeks is always list on the top for various evaluations. Indeed, greengeeks has been followed their green policies strictly, either from their server equipments or the hosting products they offered, even from their daily life they're trying to be as green as possible like we have mentioned from this greengeeks review. If you care about the environment very much, greengeeks is absolutely the best choice.
Sitecloud is The best cloud hosting provider!

Why sitecloud? because they can offer cloud hosting services at the lowest price in the industry. Sitecloud is also one of the earliest hosting companies who can offer cloud hosting plans. while you have to pay more dollars to get cloud hosting from other places, you can get everything ready with only 5 bucks from sitecloud. This is definitely the best offer in the industry.
What Has Changed With Sitecloud?

huh? is there any change from sitecloud? Yes, if you check sitecloud official site now you will find there's no shared hosting plan any more. All information is about vps cloud hosting! From my communication to their support team, seems they will no longer offer the shared cloud hosting plans and reseller hosting on sitecloud.com, It must be bad news to everyone who like to try out cloud hosting service.
I'm not sure why their team stopped this good service and changed to VPS hosting only. Maybe their offers are too good and some people are simply trying to abuse the system (for unlimited disk, unlimited bandwidth and almost everything is unlimited). It will cost too much to prepare the cloud hosting server environment. It's just my guess, I'm not sure what's the exact reason. But since there's only VPS plans available now, let's give it a comparison between greengeeks VPS plan.
Is sitecloud VPS hosting better than Greengeeks VPS?

If evrything is offered like it's description, sitecloud vps hosting server is defiitely more reliable than greengeeks vps server. The cloud hosting will be able to ensure the uptime while the regular vps will rely on the host server heavily. But if you're not going to host a heavy traffic website and just for normal usage, greengeeks vps should be enough since the price is less expensive than sitecloud.
Generally speaking, you don't really need the cloud hosting vps for security and stability consideration. Their CEO Trey Gardner also confirmed the disadvantages and some problems with their cloud hosting infrastructure. Greengeeks would be better choice if you just need a vps server, cheap and safe.
Visit www.greengeeks.com and claim greengeeks $30 Promo now!
UPDATE: Above comparison is not valid anymore as sitecloud already merged into greengeeks completely and their brand no longer exists from the industry.
---