China has the world's largest population and also the largest potential E-market. After thirty years' open policy, China has turned from the world's factory to consumer market. With it's internet development, more and more business being set online. If you're going to make business in that area, it's pretty essential to have an China local web hosting provider to host your business website.
The limitation of China web hosting

ICP license registration would be the main problem to put your website online in China, no matter if you're enterprise or personal websites you have to apply the license and follow it's rules to operate your website content. Another effect for running live site is webmaster will have to shutdown it for license issuer review, it takes up to 7 days which is not acceptable for most ecommerce websites.
China web hosting industry Overview

Just the same as US, there're tons of hosting companies in China, however, most of them do not have their own datacenters and servers, their business is mainly reseller based. Because it's very expensive to running this business, especially the cost of bandwidth in CN. Only those big groups have financial abilities to purchase the real equipments.
Comparing to US or other popular districts' web hosting service, the China web hosting plans are relatively expensive because of the costly equipments. If you find some cheap hosting plans with similar features from US hosting, they're probably resellers of US hosting.
Top China web hosting providers

It's expensive to run hosting business in China, there're still some good service providers who have long history from the industry. To have a quick look over their service features, here's a basic table list.
| | | | | | | |
| --- | --- | --- | --- | --- | --- | --- |
| Website | Net.cn | Xinnet.cn | Sudu.cn | West263.com | Now.cn | Edong.com |
| Pricing | ¥580/yr | ¥580/yr | ¥235.2/yr | ¥148/yr | ¥379/yr | ¥298/yr |
| Server OS | Windows/Linux | Windows/Linux | Windows/Linux | Windows/Linux | Windows/Linux | Windows/Linux |
| Disk/Bandwidth | 150MB | 20GB/mo | 1GB | 10GB | 1GB | 10GB | 100MB | 1-GB | 150MB | Unlimited | 200MB | Unlimited |
| Support | 24 x 7 | 24 x 7 | 24 x 7 | 24 x 7 | 24 x 7 | 24 x 7 |
| Support Domains | 10 | 10 | 1 | 15 | 3 | 4 |
| English site | www.hichina.com | X | X | X | www.eranet.com | X |
Among the list, net.cn and xinnet are the largest China web hosting providers. Their market share in that area already passed 80% from general analysis, they're recognized as safe and reliable hosting provider, and of course their price is relatively high comparing to all their competitors.
Here's a graphic view of China top hosting companies by webhostinginfo site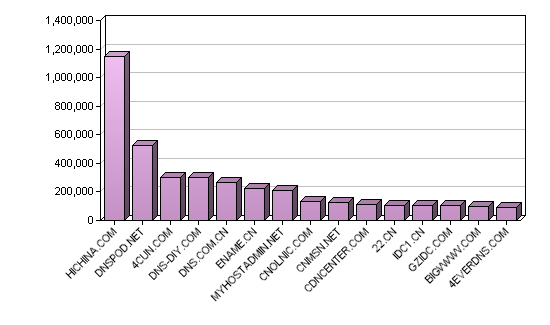 The above web hosts share over 90% hosting business in China. They have support or servers in every popular datacenters in the country. Except for the mainland servers, they also co-operate with HongKong DCs and global CDN service. In the list, the HICHINA group is operating almost half of the total service, it's the largest hosting company in China. No matter compare it in CN or world wide, it's very huge group.
Best China Web Hosting Alternative choice?

For 100% China mainland based web hosting, the above names should be good enough. However, based the complex to host your website there, you might choose the best nearby server locations like Hongkong. If Hongkong is included then I still recommend the webweb.com service which is discoussed in our previous webhost4life new business article. If you just need Chinese support but do not want to host your website on China server, you can check out the Ixwebhosting China posting for further details.