Best Hosting Controller Web Hosting
Web hosting control panel is playing an essential role from the industry. A good control panel solution will help with your business success while a buggy one will bring disaster. There're several popular hosting control panel solutions we introduced before such as cpanel, plesk or websitepanel. Today I would like to introduce another popular name called HostingController which has a long history in control panel development.
Hosting controller Introduction

Hosting Controller is web hosting control panel solution. Since from 1999, the hosting controller group has been offering automation solution for web hosts and cloud based service providers. It's perfected designed to manage both Windows & Linux servers simultaneously as part of a single cluster. Plus the powerful add-on tools, you can keep your hosting business in safe hand.
What's good of hosting controller?

The most outstanding feature with hosting controller would be their full solution to web hosting business. Unlike the standard cpanel which requires many third party tools to make your hosting business running properly, the hosting controller get everything included. For example the automated billing & provisioning and sign-up scripts. The system is integrated with the main domain registrars and the most popular payment gateways. The hosting controller also includes a built in helpdesk where you can create your knowledge base quickly.
Hostingcontoller vs Plesk

If you check the latest version hosting controller, you will find the layout is much like plesk control panel. I would like to share my personal comparison between the two softwares.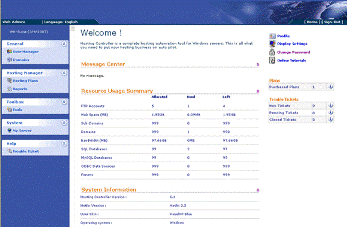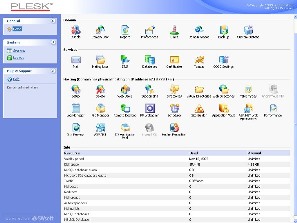 Compatibility -Both hosting controller and plesk is designed to work with both windows and linux OS with different level management panels (Admin, reseller and customer). However, the hosting controller would be better choice if you need to manage some enterprise level solutions like MS Exchange, Sharepoint and Ms CRM etc, the plesk is still lack of support with these softwares.
Pricing -The hosting controller is good for the "all in one solution" where everything is inluded the the price such as sign up script, billing system and help desk system etc. The plesk is popular for its modules, you can add/remove services by configuring the modules, however you have to pay extra for the service support.
Add-ons -Both softwares have their own add-on products. On hosting controller end, it has rebuildXpress which is for system backup/restore, The other one called "Click & Install Apps" which is for scripts auto installer. The both add-ons are costly products. However, these features are available for free from plesk.
User Experience -If you're using some older version plesk, you might have bad experience especially on windows server which have been discussed hotly on plesk forums. Before Plesk 9 released, the hosting controller is always the best alternative solution because of it's windows friendly performance. The plesk version 10 have fixed most of the popular bugs and accepted more by users.
It's hard to say which one has better performance from their newest release. They both are trying to add more and more features to it's management interface with across-platform support. However, based on their prices, hosting controller definitely has more advantages. Especially when you're running a clouding system, the single server license will work for all.
Read more details about hosting controller and plesk:
http://www.parallels.com/products/plesk
http://hostingcontroller.com/Hosting-Control-Panel-Software/Products-Overview.html
Best hosting controller web hosting plan?

You might find it hard to find a popular web hosting with hosting controller support because most are plesk or websitepanel based service. hostautomate.com is the official recommendation from hosting controller support. If you just want to use web hosting to host your website, it's worth of a try because of the little price. If you are running webhosting business and would like to reduce the investment, the hosting controller would be the right go.
---