Global Economy View on Google Earth Map
European Debt Crisis is hot topic on many newspapers. Personally I did not pay attention to such report because I'm not professional and not interested with it. But I'm wondering how is the economy going from different areas on the earth and just did some searches. I found some interesting pictures from google earth to show up the current global economy. I would like to share with you all. Note: the below contents are mostly from third party matirals not my personal writing.
This picture is taken by NASA sun-synchronous orbit statellite at 10:00 PM over the world.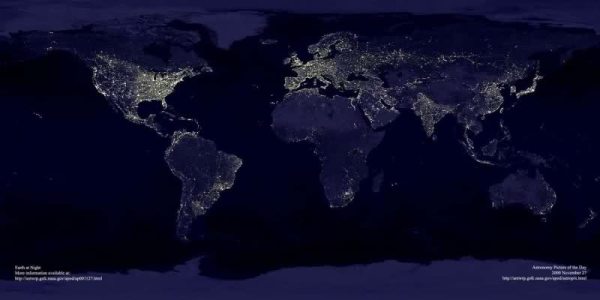 We can pay attention to the following points:
1

. Brightness objectively represents the level of economy and population density degrees. Brightness should rely more on economy development.

2

. US is the brightest on the map, eastern Europe and Japan are also strong.

3

. The brightness of China shows the eastern district is far more developed than the western. Featured brightness regions are most from the ChangJiang River Delta, Pearl River Delta and Taiwan east coast. Tibet Qinghai areas are all dark.

4

. India is actually brighter than China and also shows the uninhabited area in India is less than China!

5

. In particular to the Korean Peninsula, on this map you can see only a latitude line —- The 38 degrees north latitude line. Area from north and south are in sharp contrast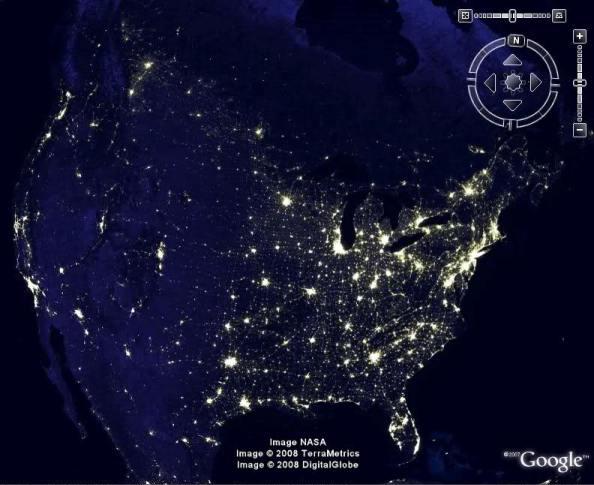 The U.S. economy is mainly distributed in four groups of cities:
The northeast Atlantic coast city group (central city New York)
The middle and the north side of the Great Lakes cities group (central city Chicago)
The western Pacific coast city group (central city Los Angeles)
Southern Gulf of Mexico coastal cities of the group (central city Houston).
Level of development: Atlantic coast > Great Lakes > Pacific coast > Gulf of Mexico coast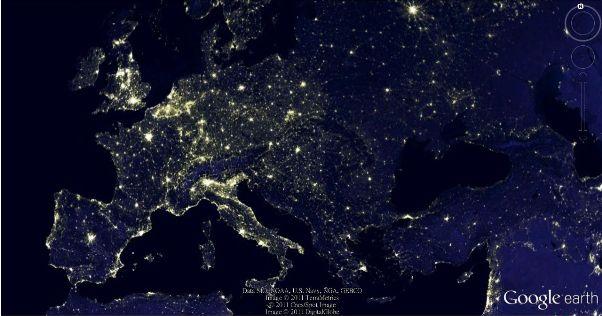 Europe's economy is mainly concentrated in two urban agglomerations:
Northern Atlantic coastal urban agglomerations: located near the junction of both sides of the English Channel, Britain, France, and Germany. The major cities including London, Paris, Brussels, Amsterdam, Cologne.
Southern Mediterranean coastal city: mainly distributed along with the coast of Apennine Peninsula and southern France. Major cities, including Rome, Milan, Marseille.
Russia's economy is mainly concentrated in Moscow, St. Petersburg
From the brightness we see the northern city group is more developed than the southern.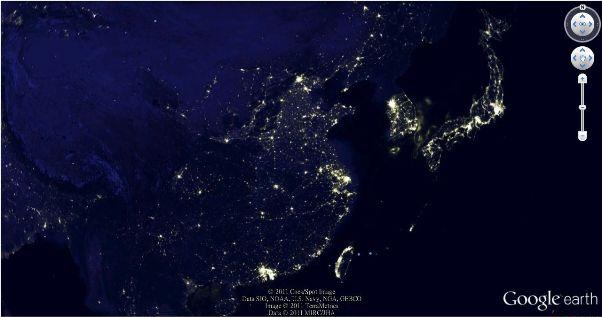 The China economy are mainly destributed to three groups: Yangtze River Delta, Pearl River Delta, Beijing, Tianjin and Hebei province. There are 6 developed places in Western region — Chongqing, Chengdu, Xian, Changsha-Zhuzhou-Xiangtan, Wuhan, Zhengzhou. Three major cities in Eastern China has similiar brightness from Japan, south Korea and Taiwan.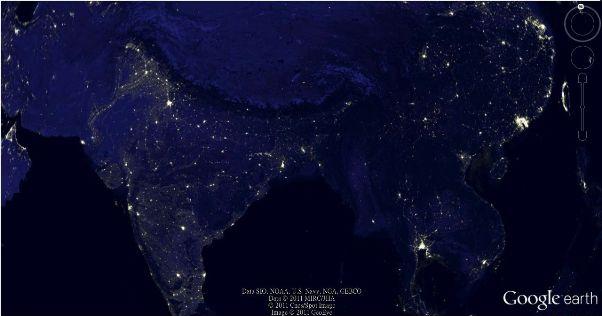 From the figure we see that India has average brightness over the country but does not have a real city group. Featured cities: New Delhi(north on map), Mumbai(on the west coast, the brightest one), Kolkata and Chennai.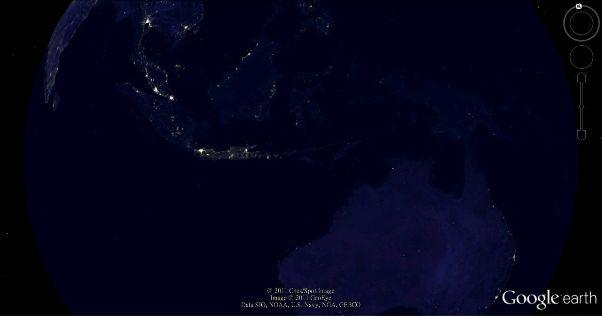 Southeast Asia's economy is mainly concentrated in the Straits of Malacca coast, North Thailand gulf and Java island. The brightest place is from Singapore-Kuala Lumpur City Group. Bangkok, Jakarta are also good. The brightness of Australia is mainly concentrated in Sydney, Melbourne and Brisbane on the East Coast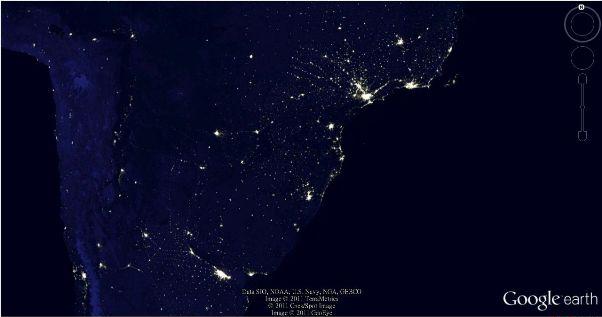 Brazil economy is destributed along the Atlantic coast cities. St. Paul, Rio de Janeiro are main cities. Buenos Aires of Argentina is also performing well.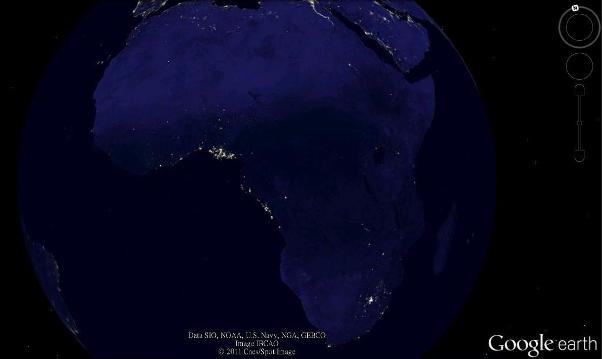 Almost all dark in Africa. Only several bright spots. No citie groups. Two brightest spots are located in Lagos (the capital of Nigeria), Johannesburg (South Africa's economic capital).