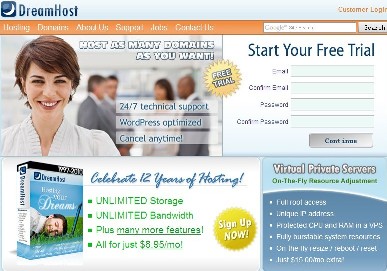 Dreamhost Overview

One of the earliest host provider with over 1500 Hosting servers & trusted by 800,000 websites all over the world. Dreamhost always be able to meet your web hosting requirement. Dreamhost is recognized rule maker for multiple aspects in hosting industry. The company provides leading technologies to make sure their service is up to date. They provide inhouse programed hosting control panel for shared, managed, VPS and dedicated servers. Dreamhost is also leading multiple cloud computing technologies for developers & entrepreneurs.
Dreamhost Review – Hosting Plans

Since year 1997, Dreamhost has been offering full hosting solutions. Now dreahost plans are moving forward to cloud platform while traditional service is still offered.
Shared Hosting: Basic but advanced setup by SSD drives. All popular offers like free domain and unlimited domain pointers are included. The difference here is dreamhost people guarantee 100% uptime other than 99.99% or similar from other companies. Also, they are proudly to offer up to 97 days full money back if you're not satisfied.
Managed WordPress Hosting: A solid service that's dedicated for wordpress. Your wordpress will be hosted on VPS server, the backend mysql database is also setup on separate VPS platform to ensure the best performance. Their automatic installation has already optimized on many sides based their experience such as varnish caching etc.
VPS Hosting: SSD storage and 100% uptime guarantee starts with $15/mo. The dreamhost vps server is truely unbeatable from any side comparison over other providers. Please note, dreamhost has Ubuntu linux installed as default with Ubuntu LTS (Long Term Support) – for higher uptime and faster security updates.
Dedicated Server Hosting: All dreamhost dedicated servers utilize Intel XEON server-grade processors with RAID 1 hard drives, in case one drive fails, another take in place to make sure your service is online. At the meanwhile, dreamhost professionals will fix problem in quick time to ensure your server health.
Cloud Hosting: Powered by OpenStack and Ceph, dreamhost provides different grades cloud service to support your different needs. All cloud computing technologies are based open source projects where dreamhost is foundation gold member. In this way, their people can make sure to deliver the best service to customer.
Check out dreamhost promo on >> http://www.dreamhost.com <<
Dreamhost Review – Hosting Features

Dreamhost drives leading platform to support their clients. They use SSD for both shared and vps servers with no limitation of space/traffic usage per hosting account. We have tried to upload 50GB files and no problem at all. Our clients got similar experience too and no complaints by support, so their unlimited policy is quite true.
While most linux hosting providers are cpanel based, dreamhost use their inhouse developped control panel software(screenshot as left image). This wordpress like management panel is simple but capable of handling all services efficiently. Any system notice will show up on control panel home page so we can keep updated with official team..
Because the company itself is foundation gold member of lots of popular open source projects, their professionals use many award winning technologies to power their service. For example openstack – the most popular cloud server software.
Dreamhost Review – Price

Definitely, the initial price of dreamhost shared hosting plan is pretty high comparing to lots of competitors. However, dreamhost does provide various coupon codes to reduce their costs at very affordable rate. Here're few promo codes from dreamhost official with promotional details. Prices are cut down instantly!
SPECIAL97OFF

— Global use to get $97 off and one free domain

3UNIQUEIPAND7OFF

–Extra 3 free static IPs, one free domain and $7 off your total order

6DOMAINS22OFF

— Free 6 domains and $22 off your order

2DOMAINS82OFF

— 2 Free domains and get $82 off your order

1UNIQUEIPAND67OFF

— One free static IP and get $67 off your order

1IP2DOMAIN52OFF

— One free static IP, 2 free domains and get $52 off your order
Attention to Dreamhost coupon codes:
you have to sign up with US IP or else it won't work (you can use vpn connection if not located in US)
Only one time use for the same credit card sign up.
some coupon code can be used through google checkout (ex. the code "777")
hosting coupon will always be offered during festivals for example "valentine's day", "fool's day", "US national day" etc.. You will save big money if sign up during this period.
What would be the strong points at dreamhost service?

Dreamhost provides leading hosting features including free domain and unlimited disk space etc. The biggest spotlight with dreamhost would be their honest disk usage. From existing user experience, they allow up to 300GB per account. Because the average disk limit is all around 10GB for most unlimited hosting providers, the dreamhost offer is absolutely on TOP.
Solid plans
Dreamhost offers shared, VPS, dedicated & Cloud hosting plans. Unlike most providers who blow off what they have, dreamhost does follow the offer honestly. What's listed on their website will be what we can get.
Lots of Disk space
Dreamhost offers honest and most disk space among all other shared hosting providers! From our experience, you can upload up to 300GB files to your hosting space. Yeah! Under shared hosting account! You can't find a greater solution from other providers.
Leading technologies
As one of the earliest hosting provider, dreamhost keep their service up to date from both server config & tech support. For example they introduced cloud hosting via the leading openstack in real cloud environment.
Longest money back guarantee
DreamHost offers the longest 97-day money back guarantee. Absolutely the best one if you worry about your money paid to their company. They proudly offer such period refund policy simply showed their confidence to keep your business with them.
What would be the Dreamhost drawbacks?

There's no really drawbacks with dreamhost service. However, if you have familiared with the standard control panel solutions like cpanel, plesk or websitepanel, you might find a little difference with dreamhost. They use inhouse developed control panel which is not very nice for new clients. It's simple but not so attractive organized like the leading control panel softwares. If you have to use a cpanel or plesk hosting service, dreamhost would not be good choice.
Do we recommend dreamhost hosting service?

Dreamhost is one of the earliest hosting provider and everything seems to be managed professionally. They proudly offer really unlimited disk space via shared server to approve their abilities. In case you have a website that requires lots of web space, dreamhost will be perfect choice for money saving. On the meanwhile, their budget shared hosting service is always complained for slowness, you might have to face some kind slow depends your location.
Sign up with discount www.Dreamhost.com
---