Does Server Physical Location matters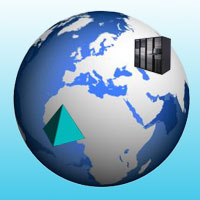 Server location is always one of the most important factor when selecting web hosting service. Either for faster loading speed or better understanding of the data center structure. More people prefer to a more nearby server based traditional concepts of network configuration. However, does server distance really matters for nowadays computing development? Below is an indepth compaison between server distance and speed.
Server physical location did play an important role in the early days because network is not so powerful as today. The server hardwares are al old technologies based. The max network port ability was 100MB/ps. Slow port ability plus less quality network equipments result in slow server connections. Especially when there's long distance, it might go through a big amount of hops and you have to bear with long waiting for a single page loading. However, things improved a lot in the past 10 years because of the magic growth of internet business. The major improvements can be categorized in following
Fiber network
Fiber network is popularly deployed in most areas on the planet for TBs connection. For some hot districts like north American, Europe and Japan etc have widely configured fiber networks with leading performance. Each area can be connected via the most possible speed. Fiber network brings revolutioal improvement for internet communication.
Hardware development
Server hardwares are almost improved everyday nowadays. In computer world, new products will be put into production every 3 months. Because of this, data center providers be able to replace old equipments with new and more powerful hardwares via less investment but result in 10s or 100s performance improvement. The newest super computer already reached 100 billions speed. Administrators can easily configure a powerful and fast server using all available resources.
CDN
CDN(Content delivery network) is the most popular service nowadays. With this technology, your site contents will be sent to multiple network nodes on the earth, when there's request by end user, files will be downloaded from the most nearby network so as to ensure the fast connection. Because of this advantage, the server distance is no longer a real problem for fast global communication.
Cloud computing
Similar to CDN, cloud computer is completely network based service where your storage and all server services are created in the cloud. This cloud system can be scalable from any available network resource as long as you want to. Unlike traditional servers that work independently, cloud computing requires less central server system. Means there's no much difference if you request a service from United states or UK because you're from the same cloud system.
As we see, server distance is no longer a big concern for high performance internet access. But when do you have to consider it? The answer is your local internet facilities. From US, EU or AU such fiber network areas, you don't have worry about local networking because they're integrated perfectly to the country systems. But if you're located at a less quality network area like Africa, server distance does play an important role for internet business. Network and all related facilities might not so advanced like in US. For such case, a local server service will work much better than US server because the us server will have to take long time to connect.
Based above explanation, if you're running a local internet business but you don't have a good network connection to oversea servers, a local ISP is your best choice regardless how good the other service is. But if you manage global business, there's no such consideration needed at all. Because most people nowadays got pretty good internet facilities. Unless you refuse to go to international, you can always rely on local ISP, or else server distance should not be a concern because the internet is fast improving.