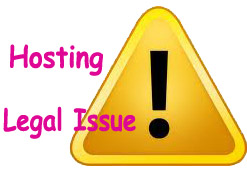 Many business are put online nowadays and the number of websites is increasing every minute. While you're preparing the website stuff and trying to promote the service/products, are you aware many websites are causing legal issues? Have you ever considered the law part when you start business online?
Common legal issues with Web Hosting

There're many factors on website could cause legal issues especially for ecommerce website. Generally, legal issues could be classified in following categories
Copyright issue – Copyright would be one of the most popular issues for ecommerce websites. There're many pirated products with unbelievable low price to attract customers. Everyone knows piracy is illegal in all countries but there're still lots of people doing so because of the huge profit. Such website domains are always changing over and over again in order to avoid punishment.
Website content – There're two factors for website content that cause legal issues. You might have used some copyrighted materials on your website or your website content is prohibited by your government law, the tipycal example is adult website. Adult website is prohibited by many countries government. The hosting with adult support will always have to introduce into lots of efforts to deal with ddos attack and high traffic issues. It's actually challenge to both website owner and service provider.
Domain abusement – In order to get high rank in short time, many webmasters like to register some domain name which is very similar to some popular ones. For example there's a famous site called apple.com and you register a new domain called apple.net, the apple.com could sue you and take down your website for brand protection purpose. For such case, if you're going to open business and build brand online, make sure to register all related domains so other people won't be able to disturb it.
How to avoid website legal issues?

As you see, it's really not so easy to put up a website just by what you think of. You have to follow your country and state's laws. The best way is to read over your service provider's TOS, it actuall includes all aspects of their services. Most people just ignored this important section and always submit complaint to support once problem occurs. So make sure to read the hoster's TOS before your sign up, it will reduce you a lot of time for webhost research. Especially when you're in need of some special hosting services like adult website hosting you have to check over and over again to make sure the hosting will be compatible with your contents.
Some serious legal issues may catch the FBI attention and result in terrible actions. A good experience can be found on this article. Just think you would like to operate a long term business, you should always consider such issues side by side and doing correctly.
---