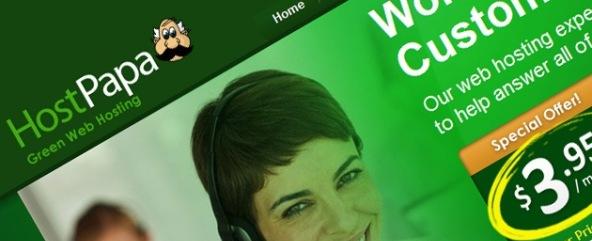 Hostpapa Introduction
Hostpapa founded in 2006 & located in Oakville with a goal to provide fully-featured web hosting packages backed up by green energy. Hostpapa offers a single standard Linux Cpanel hosting. After a short period's growing up, it's selected to top 10 list by several hosting review communities for excellent hosting features, low price and fantastic customer support. The most promotional offer $3.95/mon gives out unlimited disk space, unlimited bandwidth. If you're trying to find a budget hosting plan, hostpapa would be your first choice!
In order to provide quality 24×7 live support, hostpapa launched offices in United States, Canada, UK and France and other 3 centers in Europe.
What's good of hostpapa hosting service?
This is always the first question when people try to introduce a hosting service. Ok, let's check what good things come with hostpapa.
Hostpapa is Green! - Hostpapa is one of the earliest green hosting provider while many other servers are polluting the atmosphere, hostpapa purchased the "green tag" from certified green engergy supplier which calculate the power consumption very seriously and accurate and they will pump in 100% equivalent energy back into the power grid. This will save a large amount of non-renewable energy resource and cut down the co2 rising into the air.
99.99% uptime - Another point is server uptime guarantee, 99.99% outstanding uptime is so confident to webmaster and your business. Today there're many hosting provider announced to be 99% uptime while they're really hard to archive it and finally approved to be fraud advertising, but hostpapa does it! no more advertice or any sort of, what you see is what you're actually experiencing with hostpapa!
Affordable service - Think it's too much to purchase a hosting service from other providers? Hostpapa offers $3.95/mo if we sign up 36 months. It's almost half price comparing to it's original $7.95/mo. In case we need to have a website in long run for decent services, hostpapa is good to go as it will save our budget a lot. Their price already leading in major hosting providers like Justhost, Ipage and Fatcow etc.
Mobile compatible hosting – Hostpapa is one of the very first hosting providers that co-operate with GoMobile by offering mobile website creation service. The super friendly sitebuilder wizard will get your website mobile friendly in few minutes!
HostPapa offers a simple all-in-one web hosting plan that comes with 1 free domain for life, hosting unlimit domains and $340 searcg ebgube credits over google, yahoo and bing! The web host provides unlimited disk space, monthly data transfer, email accounts. At the moment hostpapa is offering the special discount at only $3.95/month. Please claim the special price at http://www.hostpapa.com/
What you should be aware of hostpapa hosting?
Our suggestion is, if you find hostpapa could give you decent service you can just continue with it even you actually do not need anymore, Why? Because their cancellation fee is abnormal high. Here're the fees you need to pay if you like to cancel hosting with hostpapa: $29.95 one-time setup fees, The free domain you registered from signup will cost you another $24.95. So now you know why we do not suggest cancellation with hostpapa.
How do we think about Hostpapa hosting?
From either hosting plan feature or customer support and feedback, hostpapa can be listed as top and budget hosting. You can trust hostpapa if you like to be green and healthy for your site. what bad is their cancellation policy, however since their cancellation rate is relatively low comparing to other web hosting provider, you do not need worry much about this.
---